Nightlife in Gatlinburg and Pigeon Forge
---
23.09.2021
The Great Smoky Mountains may seem to be too remote and wholesome to become a major party destination. On the contrary, Gatlinburg is the perfect place to go if you're looking for a vacation full of fun and adventure during the evening. Gatlinburg has many exciting attractions and activities from water parks, amusement parks, and ziplines. There are also many places to eat and drink if one is searching for nightlife in Gatlinburg. They have restaurants that will satisfy any craving, plus clubs and bars that will satiate your thirst. You can even find the best craft beer breweries. If you're looking for something a little more low-key than the usual nightlife scene, Gatlinburg has bars with live entertainment or places with pool tables.
More Flavors of Boone than an Ice Cream Shoppe
What's a better treat on a warm Saturday night than butter pecan ice cream? Butter Pecan Moonshine. You will find butterscotch, apple pie, and other flavors at the Ole Smoky Moonshine Distillery Located just off the parkway in Gatlinburg, this is the most visited distillery in the US and their tastings are highly rated. A whole new spin on mountain dew! Bring home a jar of cherries in 100 proof liquor for a memorable souvenir.
Boozy Desserts
Are you thinking about ice cream now? Good, because we have the perfect solution for you! The Alcoholic Ice Cream at Buzzed Bull Creamery. This highly sought-after shop has some of the most unique creations we've ever seen! Described as mouth-watering and irresistible, you'll be missing out if you don't try this place. You'll thank us later!
Beyond basic whiskey
You can't go to Tennessee without sampling some of their prized whiskey, and the Ole Smoky Whiskey Barrelhouse offers a variety from straight bourbon, applejack brandy, and whiskies flavored with cinnamon, salty watermelon, and mango habanero.
Celebrity moonshiners
They love Sugarlands Distilling Company over at Trip Advisor and it's certainly a favorite of race fans and the Discovery channel. Come for the tasting and take home jars of spirits endorsed by your favorite moonshine cultivators and race car drivers. From sour mash to maple bacon there's something for everyone.
Dirty Drinking
Along with all the recreational activities you can also party outside of Dollywood! There is plenty of nightly entertainment options in Pigeon Forge, including the XXX Distillery. With adults-only concoctions like the Blue Houdini - aka the Panty Dropper! - you can start a party anywhere.
Enjoy Some Lager
With 4 locations in Eastern Tennessee there's sure to be a Smoky Mountain Brewery near you. A Black Bear Ale will go great with their tasty menu. Smoky Mountain Breweries also feature a wide variety of beers and lagers, such as A Black Bear Ale, along with some fruity drinks such as the Long Day at The Beach for the gals. Your pals will love the affordable and flavorful meals. Kick back and watch the game and other shows on one of their many HD TVs.
Bring The Nightclub To Your Cabin
Looking for a sexier time in the Great Smoky Mountains but hear there were no strip club? We've got your back! You can order dancers straight to the front door of your cabin! Vacation cabins can easily turn into a VIP room that will rock. Check out Hot Gatlinburg Strippers and bring the party to your friends.
Party At The Arcade
Sure there are plenty of options to play video games, but is there one that you can drink and play? The new Dave & Busters in nearby Sevierville has a full bar and a $40,000 arcade with state-of-the-art virtual reality games. Here you can also enjoy delicious appetizers and small meals, such as a plate of yummy, melty cheese curds. You can also enjoy a wide variety of beers, cocktails, wine, seltzers, game-day shots, and more! Buster's closes at midnight on the weekends, so be sure to arrive early enough to check out all the games!
Drive The Moto-Beasta
This is not just any 4 Door Jeep Wrangler, it has cool halo headlights and a 4 inch lift kit. It's an in-demand ride, but there are many other jeeps you can rent at Smoky Mountain Jeep Rentals. Just the thing to drive to enjoy Gatlinburg at night.
Puckers Sports Grill
Looking to get a break, and dance away all of your problems away? Come Check out Puckers Sports Bar and Grill in Gatlinburg Tennessee! Here you can listen to a wide variety of music for every taste, luscious cocktails, and great memories with other locals and tourists! Be sure to check out their signature drinks such as the Jolly Rancher, Red Headed Slut, Blue Hawaiian, and the Fuzzy Navel. One of the few native hot spots that stay open until 1 am, so plan to party hard!
Shamrocks Roof Top Salon
Are you on the hunt for a bit more excitement this weekend? At Shamrocks Roof Top Salon in Gatlinburg, Tennessee, you can find just that. Regularly featuring karaoke and live music with an exciting and electric crowd. Great place to hit on girls and dance the night away! When it's time for food and refreshments, head on over to the bar and check out their full bar and a large selection of Irish-style entrees.
Smoky Mountain Brewery
With locations in Pigeon Forge and downtown Gatlinburg, this bar and restaurant will provide a convenient and pleasant experience for all parties involved. Featuring HD television around the bar, this is the best place in town to come enjoy game day with your friends. If you'd like a show, swing by after 6:30 pm Friday and Saturday nights to enjoy some live music from local artists. They stay open until midnight, so you have plenty of time to have a few brews. Choose from evocatively named adult beverages like the Tennessee Bulldog, the Scruffy City Mule, their signature Cherokee Red Ale, and so much more.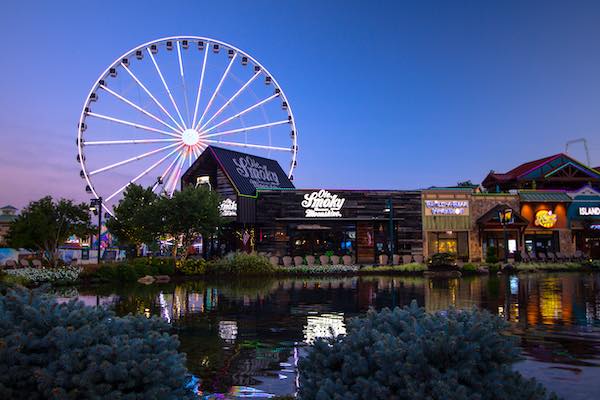 Three Jimmy's Good Time Eatery
If you're looking to stay out a little later this weekend, check out Three Jimmy's! They're open until midnight Wednesdays and Thursdays, and 1 AM on Fridays and Saturdays. Featuring live music during the day, as well as the evening. There's also karaoke on Saturday nights with Kat if you like to get a little crazy. Feast on some of the best food in the area, including but not limited to their famous BBQ and pizza. When it's time for dessert, try their Moonshine Cinnamon Apples. And don't forget about the full bar for all your drink needs!
Gatlinburg Brewing Company
Another popular hangout in town is the Gatlinburg Brewing Company. One of the few that stays open late, this location is open until 1 AM every night. You can enjoy a popular game or tv show on one of their several TVs. Wednesday-Saturday, you can enjoy live music from local and semi-local artists. Be sure to try their local favorites, the Sierra Nevada Resilience or an Ace Pear's Cider!
Funky Buddha
If 1 am is too early for you, head on down to the Funky Buddha in Pigeon Forge, where you can party and dance to your heart's content until 3 am! Here, you may enjoy a wide variety of drinks, music, and hookah flavors. Sit back with your friends and try their famous Asian cuisine along with some remarkable drinks such as the Funky Bloody Mary and the Blushing Dragon. Learn more here.
Bluffs Grill and Tap
The Bluffs is another great late-night location to visit while you're in town! If Dave and Busters close early on you, and you'd like to continue the party, head on next door to Bluffs. Don't be confused by the name, this is the place to let loose and party! Featuring a large selection of appetizing platters and a wide drink selection, this sports bar is exactly what you need this weekend. You can regularly enjoy live bands and DJs, so you know the party never stops here.
Roaming Gnome Pub and Eatery
As the top favorite bar of locals, Roaming Gnome has a lot to offer. Dragging your pooch around town and wanna settle down for a few drinks? Come on into the Gnome, we love dogs! If you're on the hunt for some food or good drinks, this is the place for you. Featuring local favorites like the exclusive X Factor, a Liquid Marijuana, and snacks like their yummy calamari or loaded nachos, you won't go hungry at the Gnome. If you'd prefer to sit outside, make your way to the back of the bar to find the back doors, where you can enjoy a peaceful drink or smoke while you watch the sunset. Head back inside and make some friends while enjoying a game of pool or darts. If you're more of a sports fanatic, you can find a booth and enjoy your favorite game on one of their many HD TVs. You'll never run out of fun at the Gnome!
The Gym Bar and Grill
Another late-night bar, The Gym provides a comfortable atmosphere where you can enjoy live performances by local and semi-local artists and have a great time with your friends! They have a huge menu, so be sure to show up hungry! This highly-rated bar is also known for its extremely friendly staff, so be sure to tip your hat to them when you come in. They are open until 2 am weeknights and 3 am on Fridays and Saturdays.
The HUT
Located in Pigeon Forge about a mile down from Walmart, is all the rage with the neighborhood. Head on down this weekend to enjoy Karaoke, Live DJ, delicious weekly drink specials, dancing and so much more! There is a spacey patio area for those who'd like some fresh air, as well as engage in some outdoor games like Cornhole. Be sure to have a nice chat with the friendly locals and staff here, we've got some stories to tell! Open until 3 am every night!
Screwballs Bar and Grill-
Located in Sevierville, Screwballs offers a more laid-back experience for those who are looking to wind down for the afternoon. You may check out the community bingo on Wednesday and Karaoke on Thursday and Saturdays. On Friday nights, you'll find local artists playing live music. Open until 1 am Tuesdays-Fridays and 2 am Saturday-Sunday nights. Enjoy a large menu and good cocktails!
Smith & Son Corner Kitchen aka Blaine's Grill
Previously known as "Blaines Bar and Grill', this restaurant/bar has had a makeover. If those vacation crowds in Gatlinburg start wearing you down, head-on into Smith's and have a nice relaxing drink from their balcony while you watch the town buzz below you. There are also TV's and a huge menu, so you and your friends can hang out for awhile while you have a few alcoholic concoctions!